Up Close and Personal with Brian T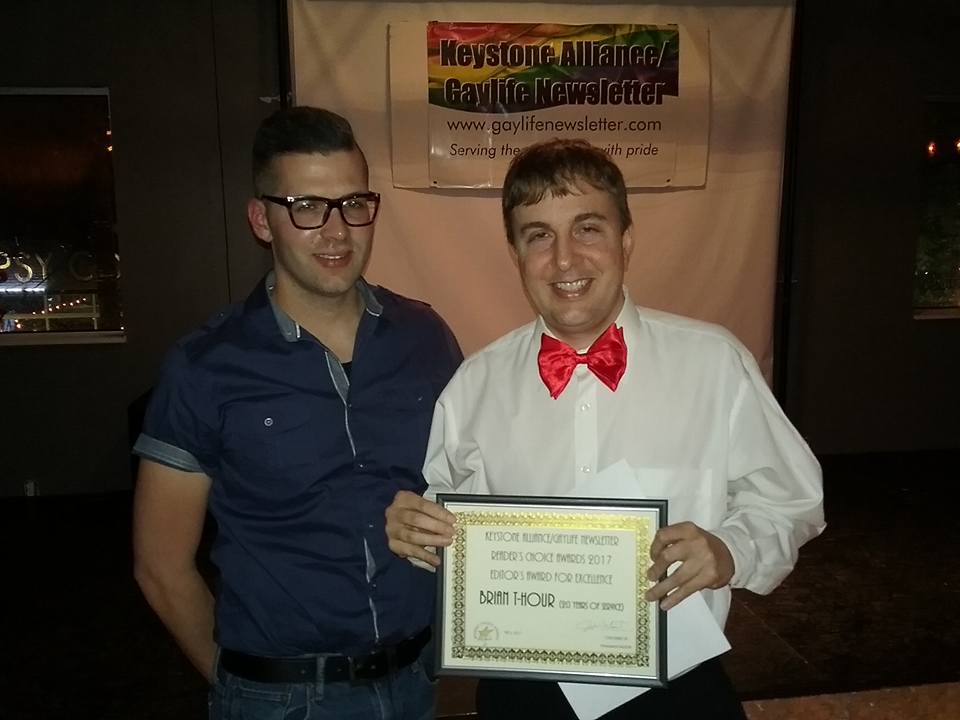 7/1/18
The End of A Pittsburgh LGBTQIA Local TV Era
It is with mixed emotions that I make this major official announcement.
In June 2019, I will be officially retiring as a Pittsburgh Community Television Producer.
I am planning a very special final broadcast.
More on that to come.
For 20 years, it has been my esteemed privilege to bring LGBTQIA themed local television to Pittsburgh and provide voluntary video production services to the LGBTQIA community.
It has been an extraordinary journey full of many twists and turns.
When I started out, I thought I would be lucky to last one year broadcasting my first late night TV series.
I never could have imagined I would still be on the air two decades later and would out last local publications and other shows I grew up with.
I originally thought 2010 would be my final year as the longest running LGBTQIA-themed local TV show, but there was still one last chapter left to be written.
Since that year, I joined forces with John DeBartola and the Keystone Alliance to promote awareness for The Trevor Project, a vital life saving organization helping LGBTQIA teens in crisis.
I have also become involved with promoting organizations such as Everytown.org to stop gun violence.
Even though I will no longer be broadcasting on Pittsburgh Community Television Channel 21 after next year, I will still continue to be a producer and will remain committed to the work I've been doing to support these causes that mean so much to me.
I will also continue to produce and perform my own original music.
The entertainment landscape has been forever changed by social media.
Facebook, Instagram, and You Tube which didn't even exist yet way back when I started have eclipsed cable access television.
I had hoped to pass the baton to a much younger successor at the station, but today's youth have sophisticated technical resources to reach a far wider audience of potentially millions of viewers.
When I was a teen, public access TV was the only medium available for independently producing content.
Over the years, I've given as many within the local LGBTQIA community as possible the opportunity be seen on local TV and have a platform.
I featured hundreds of local and national performers on the numerous different shows.
I produced DVDs for all of the bars and did work that any video production company would charge thousands of dollars to do.
An hour long show I produced was equivalent to a free hour long commercial promoting each bar.
When I first became a community producer, I originally had planned to not record at any of the bars.
A kind owner by the name of David Morrow changed my mind.
I did work predominantly for free all these years as a labor of love for my community.
I think of the many proud stellar moments like producing a highlights DVD of the first Pride in the Street event which I imagine will be part of a time capsule some day.
Originally, the plan was to make many more Pride DVDs over the years, but unfortunately, 20 copies of the first DVD were stolen from the bar Images.
Some people at the time told me members of The Delta Foundation were behind the theft.
To this day, I honestly don't know who stole them, but the bad apple or apples involved whoever they actually were, ruined it for the bunch.
I never pressed charges, but unfortunately, the incident ended the production of the highlight DVDs altogether.
As for the shows I produced for the bars, they are now all in the past.
I won't ever be producing them again, but the memories will live on.
I feel very lucky to have been able to give back to my community in a creative and fun way.
As a former alumni student, I think it's too bad how Pittsburgh Filmmakers will also be closing soon.
I'm hoping a new younger generation of producers will bring new creativity to the party.
I imagine some of my faithful detractors will be rejoicing over my grand exit from Pittsburgh Community Television, but they failed in keeping me off the air all these years.
Our community won.
They failed.
My brand of entertainment as Brian T is certainly not over.
It's just time for the next book.
Thank you for watching and listening!