KEYSTONE ALLIANCE / GAYLIFE NEWSLETTER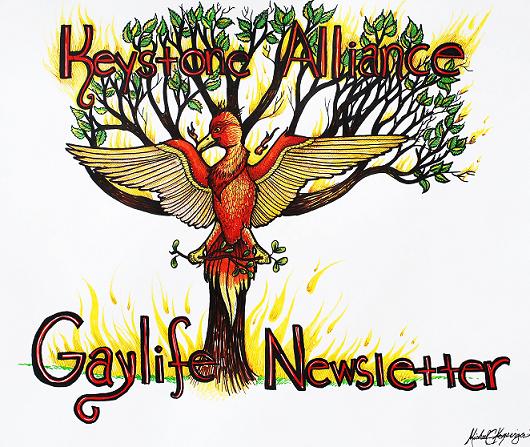 The Meaning of our Logo:
For those of you that have inquired, the logo of a Phoenix
and a Tree for our merged organization is symbolic of both
the struggles it took to create the Keystone Alliance as well
as an allusion to our President's fiction series in The
Gaylife Newsletter. Remember, the Phoenix always rises from
the ashes.

The Tree

always shows it has strong and powerful
roots. It grows high in the sky reaching for the unknown while
still being rooted and planted in the soil. And as many know
the Phoenix can rise from the ashes and it flies in the air
and knows what to tell. The Phoenix is symbolic of flying real
high and

rising from the ashes

of the chaotic demise.

The News Staff
_________________________________________________________
---
---
HOME BASED FROM: SOUTHWESTERN & CENTRAL PENNSYLVANIA
Together, The Keystone Alliance/GayLife Newsletter is a Multi-State, National Gay Organization. We raise money for charity, provide monthly support meetings/educational events, we host gay pride events, sponsor free HIV Testing and education, encourage political exchange and dialogue, sponsor educational events and speakers, we host the Reader's Choice Awards, run several pageants and write editorials in various local newspapers. We stand up for those who need protection and equal rights in our community. We provide a twice monthly news publication and Thursday Weekly Updates with various news columns and information.
---
The deadline is December 30th at noon
for the January 1st issue.
There will be a Special Christmas Issue
uploaded December 23rd. Deadline
to submit for that issue is December 21st.
Please send all news items by due date.
--------------------------------------------------------------
____________________________________________________________________
Newsletter updated the 1st and 15th of each month. Deadline to submit news Newsletter updated the 1st and 15th of each month. Deadline to submit items is the day before at noon. Submit all news items in email form, no adobe or microsoft works. Pics/Posters im jpeg foremat only to keystonealliancegaylifenewsletter@hotmail.com. Allow up to 72 hours for any responce to your email. If you do not hear back from the Editor within 72 hours then contact us at:
Facebook page (SEND MESSAGE) @

http://www.facebook.com/KeystoneAlliance.GaylifeNewsletter?ref=ts
Thanks.
If you desire advertising on weekends for your businesses, they must be submitted on Thursdays by 2pm to make the website for that weekend. Please submit by deadline or your advertising WILL NOT be posted.
Also, some of our columnists are very busy and may miss a deadline. Sometimes their column is updated a few days after the new newsletter is posted. Check back periodically if you so desire. Thanks for your understanding.

http://www.facebook.com/#!/KeystoneAlliance.GaylifeNewsletter for further details and updates.
---
Updates for Newsletter Readers:
Please scroll down Navigation to the left of this page for current news pages (At top of navigation).
---
Gay Establishment Advertisers, other Advertisers and News Columnists:
If you do not update your page every 60 days, your page will be deleted.
Your contact and info will be put in our GLBT LINKS & RESOURCES Page.
OUR CONTACT INFORMATION:
Feel free to send an add request to The Keystone Alliance/Gaylife Newsletter

Facebook

page @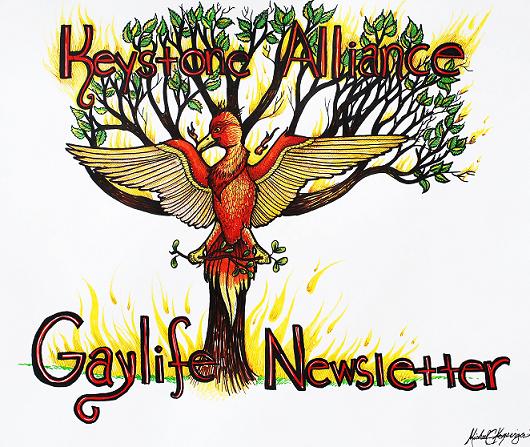 ---
---
---
---
---
---
---